FINE MODERN AND VINTAGE SPORTING GUNS
Auction at Sotheby's, London
Wednesday 11th December 2019 at 2pm
Important Notice: Viewing pass required for entry to the sale and view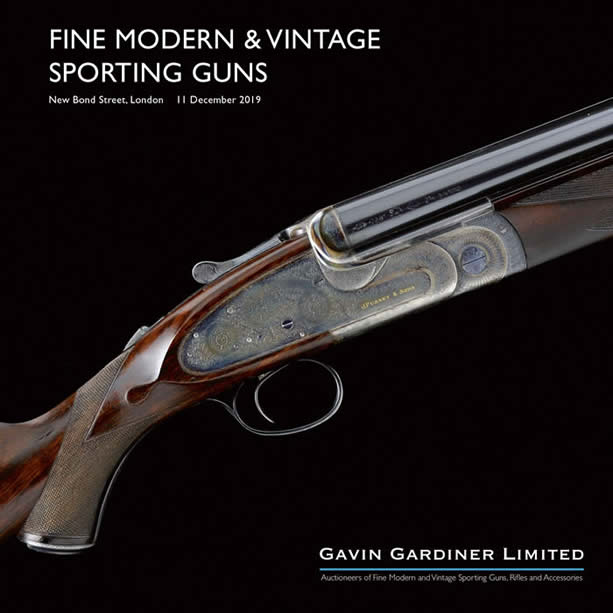 Download the Bore Size List and Absentee Bid Form
On view at Sotheby's, 34-35 New Bond Street. London. W1A 2AA
Tuesday 10th December 9am to 4.30pm
Wednesday 11th December 9am to 1pm
Auction at 2pm
Extra Lot:
Lot 326
LONGTHORNE
A PAIR OF 12-BORE SINGLE TRIGGER SIDELOCK EJECTOR OVER AND UNDER GUNS, NOS. A062-1 AND A062-2
30-inch one-piece barrels with 3-inch chambers, No.1 gun about 1/2 choke borings, No.2 about 3/4 choke borings, chequered ribs, the frames, locks and top levers laser engraved with bold foliate scrollwork surrounding scenes of game in landscapes, the action bases with a dog within a gold border, non selective single triggers, 13 3/4-inch highly figured stocks with pistol grips and slim leather-covered recoil pads, 7lb. 4oz., superior nitro proof, in their maker's leather motor case with canvas outer cover
S2
The guns were proofed in 2014 and completed shortly thereafter. They appear virtually unused.
£20000-25000
Selling Fine English Sporting Guns and Rifles at Auction. Every auction includes a good selection by the classic makers including J. Purdey & Sons, Holland & Holland, Boss & Co, Woodward, William Evans, John Dickson & Son, Westley Richards to name just a few.
Read Gavin's recent Shooting Gazette Feature.
Record prices are frequently achieved, and Gavin Gardiner is delighted to have been instrumental in the sale of the 1983 Holland & Holland Wildfowl and Wader set of six guns for $350,500 at auction in the USA.
Our fully illustrated catalogues include many additional images, many full page, and build to provide unique reference. Catalogues frequently sell out, subscribe today and never miss a sale.
Buyers Premium of 25% plus VAT is applicable on all lots sold.
Download the Catalogue Subscription Form now to receive your hard copy.
View our recent Press Releases
Please note that Invaluable charge a 5% surcharge for their online bidding platform