FINE MODERN AND VINTAGE SPORTING GUNS
Wednesday 15th November 2023
Entries Now Closed, catalogue available shortly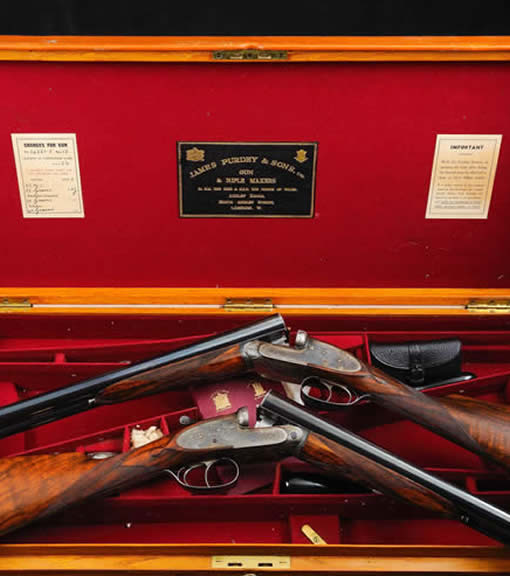 UK bidders and buyers are reminded of the requirements of the 1968 Firearms Act, and must hold the appropriate authority to posses the firearms which they intend to purchase. A copy of your firearms or shotgun certificate must accompany your absentee bids and buyer registration. Please contact us for further information or consult the notes at the begining of the printed catalogue.
Selling Fine English Sporting Guns and Rifles at Auction. Every auction includes a good selection by the classic makers including J. Purdey & Sons, Holland & Holland, Boss & Co, Woodward, William Evans, John Dickson & Son, Westley Richards to name just a few.
Read Gavin's recent Shooting Gazette Feature.
Record prices are frequently achieved, and Gavin Gardiner is delighted to have been instrumental in the sale of the 1983 Holland & Holland Wildfowl and Wader set of six guns for $350,500 at auction in the USA.
Our fully illustrated catalogues include many additional images, many full page, and build to provide unique reference. Catalogues frequently sell out, subscribe today and never miss a sale.
Buyers Premium of 25% plus VAT is applicable on all lots sold.
Download the Catalogue Subscription Form now to receive your hard copy.
View our recent Press Releases
Please note that Invaluable charge a 5% surcharge for their online bidding platform